About Hepatitis C Online
Hepatitis C Online is a free educational web site from the University of Washington.
The site is a comprehensive resource that addresses the diagnosis, monitoring, and management of hepatitis C virus infection.
What's New
Ledipasvir-sofosbuvir
Harvoni™
New HCV Treatment!
Sofosbuvir
Sovaldi™
Updated Information!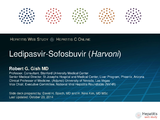 Ledipasvir-sofosbuvir (Harvoni) Presentation
Take the Free Online Course
Browse or create an account and track your progress as you work through the course. After registering, you can obtain free CME or CNE credit.