About Hepatitis C Online
Hepatitis C Online is a free educational web site from the University of Washington.
The site is a comprehensive resource that addresses the diagnosis, monitoring, and management of hepatitis C virus infection.
What's New
The
AASLD
and the
IDSA
, in collaboration with the
IAS-USA
, have developed new recommendations for HCV management.
AASLD/IDSA/IAS-USA
HCV Guidance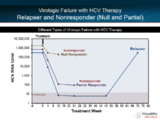 Treatment of Chronic HCV Genotype 1
Take the Free Online Course
Browse or create an account and track your progress as you work through the course. After registering, you can obtain free CME or CNE credit.